Proud to Present: The Clearly Clarinet Camp by Bocal Majority
We will announce dates and locations January 1, 2018 for the summer of 2018
Official Camp Sponsors: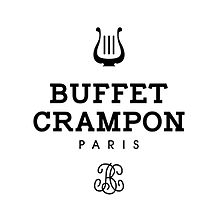 Instructors:
Dr. Cheyenne Cruz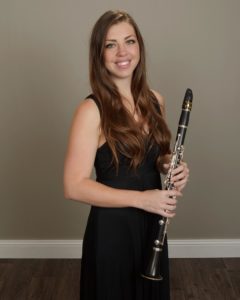 Dr. Cheyenne Cruz joined the faculty at the University of Texas at Arlington in 2016 as Lecturer of Clarinet. Previously, she held a position as Adjunct Clarinet Instructor at Stephen F. Austin State University, and was the Teaching Fellow in chamber music for the University of North Texas in 2015. In addition to her collegiate teaching, Cheyenne maintains a private clarinet studio in the DFW area including students from Hebron High School (winners of "Best Music" at BOA Grand Nationals in 2015) and Argyle High School (UIL 4A State Marching Band winner for 4 consecutive years). Cheyenne's high school students have been accepted into All-State bands and orchestras for both the TMEA and ATSSB organizations. Cheyenne completed her DMA in clarinet performance with a related field in music education at the University of North Texas in 2015. She also holds a Master's degree in clarinet performance from the Florida State University and Bachelor's degree in music education from McMurry University.
As a performer, Cheyenne has appeared with the Tallahassee Symphony Orchestra, the San Angelo Symphony, the Longview Symphony Orchestra, and the Dallas Wind Symphony. She is presently a member of the Lone Star Wind Orchestra, conducted by Eugene Corporon. Cheyenne has also been the long-term substitute 2nd clarinetist with the Texarkana Symphony Orchestra for the 2015-16 and 2016-17 seasons. An active chamber musician, Cheyenne's previous wind quintet, The Center Quintet, was invited to perform at both the Plowman and Fischoff chamber music competitions. Now Cheyenne is composing and arranging in addition to performing with her newest chamber music group, WoodWired, an electroacoustic duo with flutist Hannah Leffler. WoodWired has been actively performing original music for bass clarinet, flute, and electronics since 2015, and appeared at the National Flute Association convention in 2016.
In addition to her performing ventures, Cheyenne has been published in The Clarinet Magazine, the monthly journal issued by the International Clarinet Association, with an article entitled "A Pedagogical Guide to Playing Bass Clarinet in a Wind Ensemble." Prior to that, she completed an undergraduate thesis entitled "Mickey Mousing Squared: Postmodernism in Cartoon Music" for which she graduated with special honors in Music History. Her major clarinet teachers include Dr. Kimberly Cole Luevano and Dr. Frank Kowalsky.
Chastine Hofmeister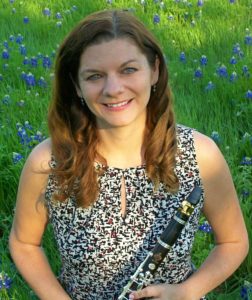 Chastine Hofmeister is currently the Second Clarinetist of the Longview Symphony Orchestra and the Monroe Symphony Orchestra. She has also performed with the Dallas Symphony Orchestra, Irving Symphony, Abilene Philharmonic, Las Colinas Symphony Orchestra, Symphony Arlington, Garland Symphony, Midland-Odessa Symphony, East Texas Symphony, Wichita Falls Symphony Orchestra, Sherman Symphony Orchestra, and was previously Acting Principal of the Symphony of Northwest Arkansas. She earned her Bachelor's and Master's degrees in clarinet performance at the University of North Texas.
While at the University of North Texas, she was a performance scholarship recipient and played with the North Texas Wind Symphony and Chamber Orchestra. During her time with the Wind Symphony, she recorded with the Klavier label and GIA educational projects. She has also had the honor of being featured in the International Clarinet Association's journal, The Clarinet.
Her primary teachers have included Greg Raden, John Scott, and Rena Feller. Chastine has participated in several master classes with distinguished performers including Donald Montanaro, Charles Neidich, Robert Spring, and Anthony Gigliotti. She has also attended music festivals such as the Sewanee Summer Music Festival in Sewanee, Tennessee and Domain Forget in Quebec, Canada.
Chastine is a member of the American Federation of Musicians, the International Clarinet Association, National Federation of State High School Associations, Sigma Alpha Iota Music Fraternity for Women, and Pi Kappa Lambda National Music Honor Society.
Chastine also maintains a private studio in the Dallas-Fort Worth area. Chastine also enjoys running and has completed several full and half marathons. She resides in McKinney, Texas with her husband, Jason, and their Cockatiel named Gustav.
Dr. Allen Buffington
Dr. Allen Buffington is currently teaching privately in Frisco ISD and Carrollton Farmers Branch ISD. He has performed with the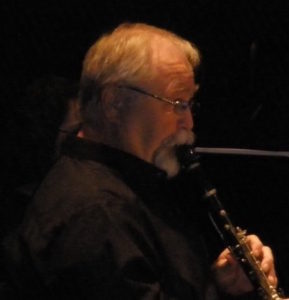 Longview Symphony Orchestra, Ruston Symphony Orchestra, Vicksburg Chamber Orchestra, Mississippi Metropolitan Symphony, and the Mississippi Symphonic Winds. He earned his Bachelor's and Master's degrees in Music Education from Louisiana Tech University, and a Doctor of Arts in Music Education Music Theory, and Music History from the University of Mississippi.
As a graduate student at Louisiana Tech University, Allen was a teaching assistant with band department and performed in the Symphonic wind Ensemble, Clarinet Choir, Jazz Ensemble, and was co-director of the La Tech Clarinet Camp. He was also the winner of the Ruston Symphony Concerto Competition and performed as guest soloist with the Ruston Symphony Orchestra. While at the University of Mississippi, he performed with the Ole Miss Wind Ensemble, the Mississippians Jazz Ensemble, and the UM Faculty Woodwind Quintet.
Dr. Buffington taught band for over twenty years in Mississippi, Arkansas, Louisiana, and Texas, and has performed with outstanding musicians such as Nell Carter, Debbie Allen, Don Sinta, David Samuels, and David Shifrin. He has studied with Dr. Edmund Winston, Gene Saucier, and has taken master lessons with David Shifrin and Ricardo Morales.
Dr. Buffington is a member of Texas Music Educators Association, Kappa Kappa Psi, and Phi Mu Alpha Sinfonia. He has presented master classes, clinics, and judged throughout the South. Dr. Buffington lives in Denton, TX with his wife Mary Ann, and two pound puppies Jazz and Ragtime.