North Carolina Bocal Majority Bassoon Camp
and Operation O.B.O.E. Camp
Artist-Instructors:
Michael Burns, Professor of Bassoon at UNCG
Ashley Barret, Professor of Oboe at UNCG
Saxton Rose, Professor of Bassoon at UNCSA
Meredith Hite, Professor of Oboe at UNCSA
Janet Shurtleff, professional oboist
Anna Lampidis, professional oboist
Rosalind Buda, professional bassoonist
Cory Jones, professional bassoonist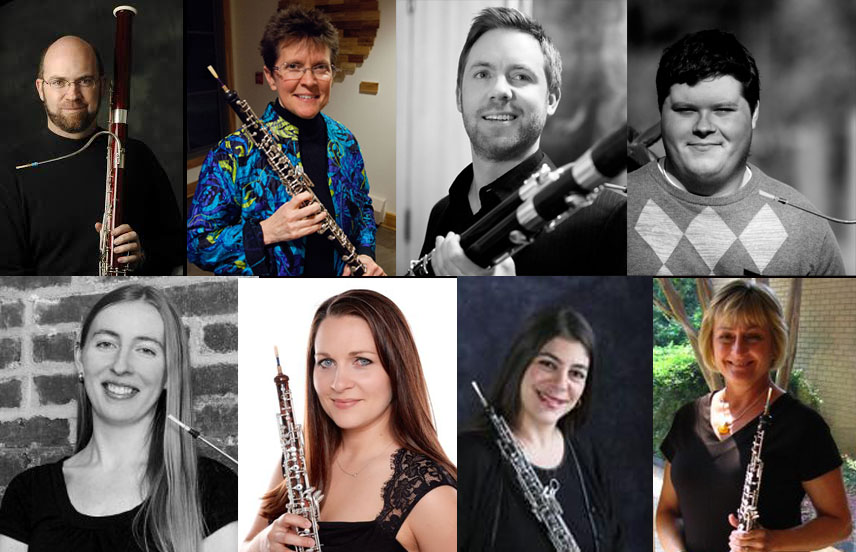 When: June 13-18, 2016
Residential students sign in on Monday at 4:00pm
Commuter students sign in on Monday at 5:00pm
Where:  University of North Carolina School at Greensboro
Cost: $350 for commuter students, $695 for residential (residential cost includes 3 meals per day, commuter cost includes lunch)
Who: any oboe or bassoon player (beginner, intermediate, advanced divisions)
This is a really great event to come learn reed-making and adjusting, play some great double-reed chamber music and get to work with some AMAZING faculty members and guest artists!
Residential students get to stay in modern dorms in double occupancy rooms.  Adult male and female RAs stay in the dorms for 24 access and supervision, including our camp manager.
CLICK HERE TO GO RIGHT TO REGISTER
General Daily Schedule (Sample – each day may be slightly adjusted for special programming)
8:00-8:30am                          Breakfast
9:00-10:00am                        Residential student individual practice time
10:00-11:00am                       Technique class
11:00-12:00pm                       Reed-making session 1
12:00-1:15pm                          Lunch
1:15-2:15pm                            Small Ensembles
2:15-3:15pm                            Reed-making session 2
3:15-3:45pm                           Faculty Recital
4:00-5:00pm                          Large Ensemble
5:00pm                                    Commuters depart campus
5:30-6:30pm                           Dinner
6:30-7:30pm                           Student's choice
7:30-10:00pm                         Evening activity
THERE WILL BE AN ALL- CAMP RECITAL ON THE LAST DAY OF  CAMP 6/18 at approximately 1:30 – all friends and family are invited to attend (no admission fee).