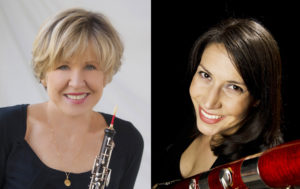 Special Guest Artists:  Amy Pollard, Professor of Bassoon at the University of Georgia — Andrea Ridilla, Professor of Oboe at Miami University
When: January 20, 2018
Times: 10am to 5pm
Where: Rice Middle School in Plano, TX
Cost: $35 per person ($55 if competing in the Solo Competition)
Deadline:  On time deadline: January 1, 2018
*Late enrollment $45 (between January 1 – 4, 2018) – in effect until January 14, 2018
*Last minute enrollment $55 (between January 5 – 7, 2018) – adjusted to January 15-19, 2018
UPDATE: Enrollment is still open until January 19th.  Cost is currently $45 and will go up to $55 on January 15th.
Who: any oboe or bassoon player (beginner, intermediate, advanced), teachers, amateurs and professionals welcome!
This is a really great event to come learn reed-making and adjusting, play some great double-reed chamber music and get to work with some AMAZING special guest artists from universities all over the country!
Bocal Majority also provides a store with tools, supplies, gifts and bassoons for your needs.
CLICK HERE TO GO RIGHT TO REGISTER
Proposed schedule (subject to change):
8:00-10:00 Semi Final Solo Competition Round
10:00-10:30 Registration and Welcome
10:30-11:15 Large Ensemble Reading Session
11:15-12:15 Reed Making Class – part 1
12:15-12:30 Picture
12:30-1:00 Lunch
1:00-1:45 Reed Making Class – part 2
1:45-2:30 Masterclasses
2:30-3:30 Special Topics
3:30-4:15 Chamber Music
4:30-5:00 Student Concert