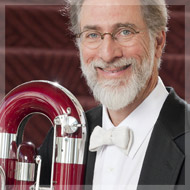 Date: Wednesday, November 16, 2016
Time: 6:30-8:30pm
Place:
Dobie High School Band Hall 10220 Blackhawk Drive Houston, TX 77089
Admission: $40 for soloists/$20 for auditors
You can do bassoon and/or contrabassoon
Clinician:  Steven Braunstein, Bassoonist and Contrabassoonist of the San Francisco Symphony.
Purpose: Get to the next level in your all-region performance to gain the edge you need to succeed from top players from around the country Late arrival / early departure is OK. Space is VERY limited for soloists.  Auditor versus soloist: Soloists will perform a selection of one etude for the class and receive a "public" lesson of about 15-20 minutes by the clinician.  Auditors will play when everyone plays, but do not play in front of the group by themselves. Most participants will be auditors, soloist spots are very limited and are assigned on a first-come, first-served basis.  All participants get to perform when the clinician has everyone play. If you pay for a soloist spot and are assigned an auditor spot, you will receive a partial refund.
CLICK HERE TO RESERVE YOUR SPOT
Late enrollment after November 3rd – add $10
Last minute enrollment after November 13th  – add $15
Bassoonist and contrabassoonist Steven Braunstein has been a member of the San Francisco Symphony since 1990 and played in the Toronto Symphony from 1979 through 1989. During the 2007-2008 season, he played with the Orquestra de la Communitat Valenciano at the newly opened Palau de les Arts in Valencia, Spain. Braunstein holds a B.F.A. from California Institute of the Arts (1975) and an M.M. from the State University of New York at Stony Brook (1977). He studied bassoon with Bill Douglas, Arthur Weisberg, Elias Carmen and William Polisi, contrabassoon with Burt Bial and Paul Camerata and reed making with Lou Skinner. In 2002, Braunstein was soloist with Michael Tilson Thomas and the San Francisco Symphony in the world premiere of Tilson Thomas' Urban Legend for contrabassoon and orchestra, a work composed for him. For 13 summers he has participated in the Grand Teton Music Festival and has played in the Aspen, Sun Valley and Colorado Music festivals. He has taught at the University of Toronto and San Francisco State University and has been a coach at the Apple Hill Center for Chamber Music.