When: July 24-27, 2017
Where:  Niles West High School, IL
Cost: $265 Regular division and $365 Premier division  What's this?
Who: any oboe or bassoon player (beginner, intermediate, advanced divisions)
This is a really great event to come learn reed-making and adjusting, play some great double-reed chamber music and get to work with some AMAZING faculty members and guest artists!
Artist-Instructors: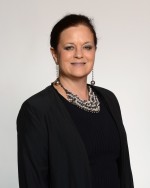 Debra Freedland is principal oboe of the Elgin and the Rockford Symphony Orchestras, Light Opera Works, and is professor of oboe at Elgin Community College.
She is a former principal oboe of the Tulsa Philharmonic, the Seoul Philharmonic, the Duluth Superior Symphony Orchestra, and the Israel Sinfonietta Beer-Sheva, and second oboe of the Illinois Philharmonic, the Richmond and the Sacramento Symphony Orchestras.
She has been a faculty member of University of Minnesota Duluth, University of Wisconsin Superior, College of St. Scholastica, Tulsa University, Elmhurst College, Seoul National University, Chung Ang University.  Ms. Freedland has had the honor of being appointed as a Fullbright lecturer to Korea, and is a graduate of Indiana University, and University of Minnesota.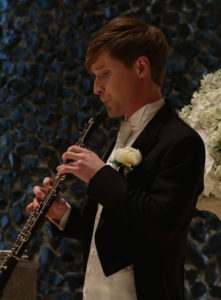 Daniel Glynn has held several orchestral positions, most recently having been appointed Second Oboe of the Rockford Symphony in June of 2015. From 2012 to 2014, Daniel was the acting Second Oboe of the Sarasota Orchestra. Prior to this, he was the Solo English Horn of the Sarasota Opera Orchestra. Daniel has also been a full-time member of both the Civic Orchestra of Chicago, as well as The New World Symphony in Miami. While a member of the Civic Orchestra in 2012, Daniel was featured as a soloist with members of the Chicago Symphony Orchestra in Mozart's Sinfonia Concertante.  Daniel earned a Bachelor of Music, Arts Administration minor, and a Master of Music from Northwestern University. He was also the first oboist to receive a Professional Studies Certificate from The Colburn School in Los Angeles, CA.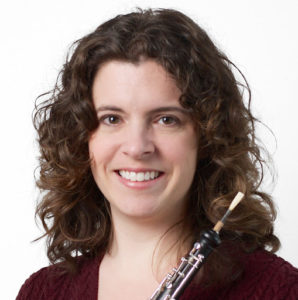 Allison Baker Wehrle holds degrees in oboe performance from Illinois Wesleyan University, the University of Illinois, and the University of Michigan. Currently an active freelance musician, Allison teaches at Trinity International University and maintains a large private studio. She's been a regular member of the Chicago Chamber Orchestra and the Chicago Bach Ensemble, and performs with several other ensembles in the tri-state area. Allison is the newest member of the Sapphire Wind Quintet. In addition, Allison worked as Associate Editor for The Instrumentalist Magazine and has also done contract work for GIA Publications and the Web site banddirector.com. She has published a number of music-related articles and interviews. Allison lives in Chicago with her husband and daughter, and their two cats.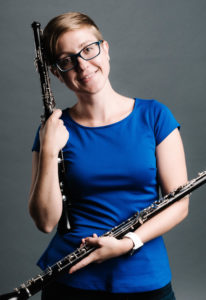 Alli Gessner plays oboe & English horn in orchestras, chamber ensembles, churches, schools, and solo events throughout IL, IN, MI and IA. She holds the Second Oboe & English Horn chair with the Southwest Michigan Symphony Orchestra, and has been heard as a substitute with the Northwest Indiana Symphony, Peoria Symphony, Dubuque Symphony, and Battle Creek Symphony. In 2017 she premiered the Concerto for Frenemies with flutist James Brinkmann and pianist Chris Narloch.  Alli is also an active teacher working with youth throughout the Chicagoland area in private and group lessons. Her students have performed with the Chicago Youth Symphony Orchestra, ILMEA ensembles, and the Schaumberg Youth Symphony. She encourages creative thinking, lots of questions, and fast air!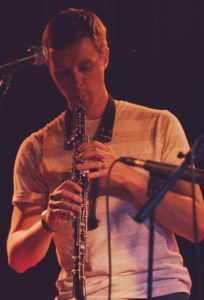 Keith Bjorklund is a musician, teacher, and improv performer in Chicago. He studied music at the University of North Texas and Northwestern University. After receiving a masters in oboe performance, he began seeking opportunities to bring his music and voice to new areas of music. He is the Assistant Worship Leader at Urban Village Church, Andersonville. He operates a private oboe studio which hosts quarterly "Oboe Studio" events that allow students a casual and supportive environment to perform and mingle. He also runs Bjorklund Reedworks, He is a native of Spokane, Washington and honorary Texan. He is married to Janell, they have two brand new identical twin boys and an adorable beagle.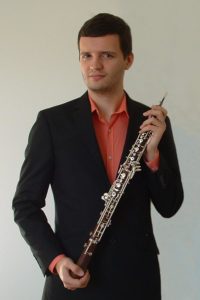 Andrew Leitza is an oboist and teacher in the Chicago-land area. At home performing both on modern and baroque oboe, he holds degrees in oboe performance from Southern Illinois University Carbondale and the Chicago College of Performing Arts, as well as studying historical performance at the Tafelmusik Baroque Summer Institute, the International Baroque Institute at Longy School of Music, and privately in NYC. Andrew has performed with numerous ensembles such as New Chicago Chamber Orchestra, Callipygian Players, Cambridge Concentus, Urbana Bach Cantatas Project, and the Amadeus Consort where he performed the Concerto for Oboe and Violin by J.S. Bach with violinist Pascal Innocenti. In 2015, Andrew had the opportunity to perform at the Hawaii Performing Arts Festival presenting works heard for the first time on the Big Island of Hawaii. When not performing or teaching, Andrew enjoys working at Oboe Chicago, Inc. helping oboists select their next instrument.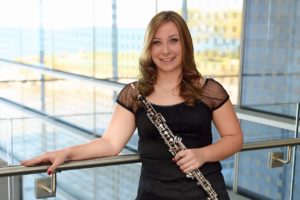 Suzanne Segredo, an Oboist seeking new musical experiences ranging from performance, education, and business throughout America.
Suzanne's musical background involves an assortment of experiences. For instance, she has worked with renowned professional oboists such as Alex Klein and Sherry Sylar, in master classes as well as established performance environments. Suzanne engages in chamber music where she freelances and performs at various events. She has collaborated with contemporary composers,  for example, in performing and premiering their works. She currently works with active professionals in music business via the Oboe Chicago company. Furthermore, Suzanne operates her own private studio in which she teaches beginner to intermediate level oboe players. Suzanne continues to play with bands and orchestras; she previously performed within the Chicagoland area and central Illinois with the Danville Symphony Orchestra and Urbana Pops Orchestra as principal English horn. Suzanne also performed as Oboe 3 in the Sinfonia da Camera. Recently she has performed as Oboe 2 in the  Lafayette Symphony, Principal English horn in the Palos Symphony, and an oboe member of the Chicago Symphonic Winds. She is a graduate of U of I under John Dee, and she attends Northwestern University working with Michael Henoch, Scott Hosteler and Robert Morgan.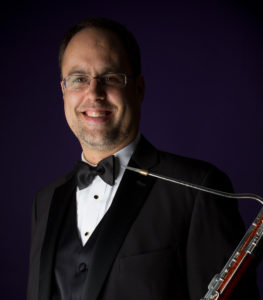 Gerik Fon-Revutzky, bassoon and contrabassoon, is an active freelancer and instructor throughout Chicagoland, Milwaukee and Indiana. Gerik is the contrabassoonist with Rockford Symphony and the Wisconsin Philharmonic. Furthermore, from 2014-2016, Gerik is serving as the substitute second bassoonist for the Rockford Symphony. He also regularly performs on both bassoon and contrabassoon with numerous other area orchestras, and is on the sub list of the Milwaukee Symphony Orchestra. Gerik has performed with the Civic Orchestra of Chicago under the batons of Pierre Boulez and Daniel Barenboim. Gerik has toured and performed extensively both nationally and internationally including Russia, Finland, England and Canada.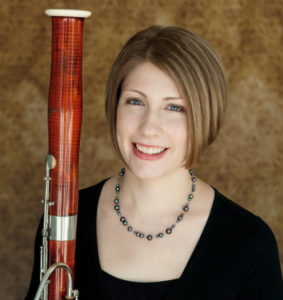 Hanna Sterba is a professional bassoon player and teacher in the Chicago area. She is a graduate of the Cleveland Institute of Music, where she was the recipient of the 2006 George F. Goslee prize in bassoon recognizing outstanding artistry. Her principal teachers have included John Clouser and Ronald Phillips. As a performer, Hanna held the position of Second Bassoon with the Canton Symphony Orchestra for four seasons, and Wheeling Symphony for two seasons. Additionally, she enjoys a varied career as a freelance and substitute musician, having played with the Chicago Symphony Orchestra, Grant Park Music Festival, Illinois Philharmonic, Detroit Symphony Orchestra, Michigan Opera Theatre, and Akron Symphony, among many others. Hanna has performed with several prominent music festivals both in the United States and abroad, including the Verbier Festival in Switzerland, Bellingham Festival of Music, Cayman Arts Festival in the Caribbean, Music Academy of the West, National Repertory Orchestra, Aspen Music Festival and School, Kent/Blossom Music, and Le Domaine Forget.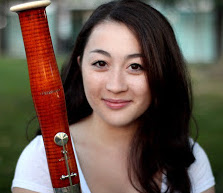 Midori Samson is a Fellow in the Civic Orchestra of Chicago and the newly appointed 2nd bassoonist of the Wisconsin Chamber Orchestra. Previously she has performed in the Austin, Charleston, and New World symphonies, National Orchestral Institute, New York String Orchestra, and Pacific Music Festival. Her chamber music appearances include Canada's Banff Centre, Norfolk and Bowdoin International music festivals, and Elliott Carter's 102nd birthday party. As a soloist, she has performed with the Nairobi Orchestra, and in recitals at New York's Philippine Consulate and Brevard Music Center. Most recently, she was the Texas young artist winner of the Music Teachers National Association competition. Midori has presented guest masterclasses at Wright State University, the University of Santo Tomas, and Philippine High School for the Arts. She has maintained a private bassoon studio for six years, and currently teaches at The People's Music School. Through organizations like Artists Striving to End Poverty (ASTEP), she continues to lead arts education initiatives and volunteer with children in places like Austin, New Orleans, New York, Guatemala, India, and The Philippines. She is the co-founder of Trade Winds, a woodwind quintet that hosts free music camps in Kenya, Tanzania, and Chicago, and is a project for which she won the Joseph W. Polisi "Artist as Citizen" Prize, and the McGraw-Hill Foundation Award for Music Education and Community Outreach. Midori is a native of Portland, Oregon and holds degrees from The Juilliard School and The University of Texas at Austin. In her free time, she stays busy caring for her rabbit Fang, and cooking a meal from every country of the world week-by-week. She is thrilled to join Bocal Majority Double Reed Camp for the third year in a row!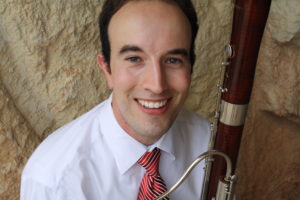 Kevin Judge is a bassoonist committed to bringing a variety of experiences to artistically engaged audiences. Kevin's work as a performer and teacher has led him to establish an international presence; his orchestral experience has given him the opportunity to perform in Carnegie Hall, Brazil, Belize, and France.
Currently, Kevin serves on faculty at Iowa State University and is principal bassoon of the Des Moines Symphony, a position he has held since 2013. In addition to performing with various chamber ensembles around the state, Kevin performs regularly with the Quad Cities Symphony and Orchestra Iowa.
In the summer of 2015, he was selected from a national pool of applicants to serve as a mentor for MusAid, a non-profit organization that provides musical institutions in under-resourced parts of the world with volunteer music teachers and donated instruments and materials. He worked closely with other mentors and the program coordinators to use music as a tool for social transformation, by providing high quality musical education to at-risk children and youth in Belize City, Belize.
Kevin has attended distinguished classical music summer programs, including Music Academy of the West, Sarasota Music Festival, and the Castleton Music Festival.
A recipient of the Nancy and William Akers Endowed Scholarship, Kevin pursued a Master of Music degree at Rice University under the tutelage of Benjamin Kamins. As a performer at Rice University's Shepherd School of Music, he was actively involved in the Shepherd School Symphony Orchestra and assorted wind chamber ensembles. Kevin was the Education Outreach Coordinator for the music program at Rice University, which helped elementary students in the Greater Houston Area to better understand classical music in an interactive environment. Prior to pursuing a Master of Music degree, he won first prize in the Iowa Center for the Arts Scholarship in 2008, under the instruction of Benjamin Coelho.
CLICK HERE TO GO RIGHT TO REGISTER
General Daily Schedule (Sample – each day may be slightly adjusted for special programming)
10:00-10:40 Special Topics
10:45-12:25 Reed Making
12:30-1:00 Lunch
1:05-2:15 Small Ensembles
2:20-2:40 Break
2:45-3:10 Faculty Recital
3:15-4:00 Large Ensemble
THERE WILL BE AN ALL- CAMP RECITAL ON THE LAST DAY OF  CAMP 7/27 at 3pm – all friends and family are invited to attend (no admission fee).